Prices in Japan
What are the supermarket prices in Japan? Is the cost of living in Japan are higher than in United States? How much will it cost us to entertain in Japan and how much will we spend in restaurants and bars?
On this page below you will find the current price and cost overview in Japan: food, Restaurants, living, and Entertainment (The last update: today 9 hours ago)
Currency in Japan to Japanese yen (JPY ¥). For 10 US dollars you can get 1.18 thousand Japanese yen. For 100 US dollars you can get 11.8 thousand Japanese yen. And the other way: For 100 Japanese yen you can get 0.913 US dollars.
What are the different prices in the cities in Japan? Look here: Prices in cities in Japan
Prices: Kanazawa Kawasaki Kyoto Nara Osaka Saitama Tokyo Yokohama Chiba Hiroshima
Summing up different expenses, it can be concluded that it is generally more expensive in Japan than in United States. Food and basic products are more expensive about 18%. Dining in restaurants and bars will be cheaper by 28%. The cost of living in Japan is comparable to the cost of living in United States. In the case of sport and entertainment our expenses can be higher by 86%.
See also how prices have changed in previous years: Price changes in previous years in Japan
Are hotels expensive in Japan? How much will we pay for a room in Japan?
The average price of accommodation in Japan is $92 (¥10K). If you are looking for the cheapest accommodation: in a cheap one-star hotel you will pay: $120 (¥14K) and if you like hostels, you'll spend the night there for: $42 (¥4.8K). The cost of a room in a 2-star hotel is Japan in $180 (¥20K). 3-star hotels offer accommodation on average for $210 (¥24K) Overnight stay in 4-star hotel costs $230 (¥26K) in Japan If you are looking for the best conditions for your stay, then in 5-star hotels that will provide much more luxury you will have to pay $390 (¥45K)
And if the trip plans are simply for a given region of the world, then maybe it will come out cheaper than in Japan in nearby countries? See prices in: South Korea, North Korea, Taiwan, Northern Mariana Islands, and Guam.
Comparison of selected prices in Japan with prices in United States:
Price changes in previous years in Japan
Has the price of bread increased in Japan?
Bread in previous years has cost: 2010: $1.5(¥170), 2011: $2.2(¥250), 2012: $1.7(¥200), 2013: $1.6(¥190), 2014: $1.7(¥190), 2015: $1.5(¥170), 2016: $1.8(¥210), 2017: $1.6(¥190), and 2018: $1.7(¥200).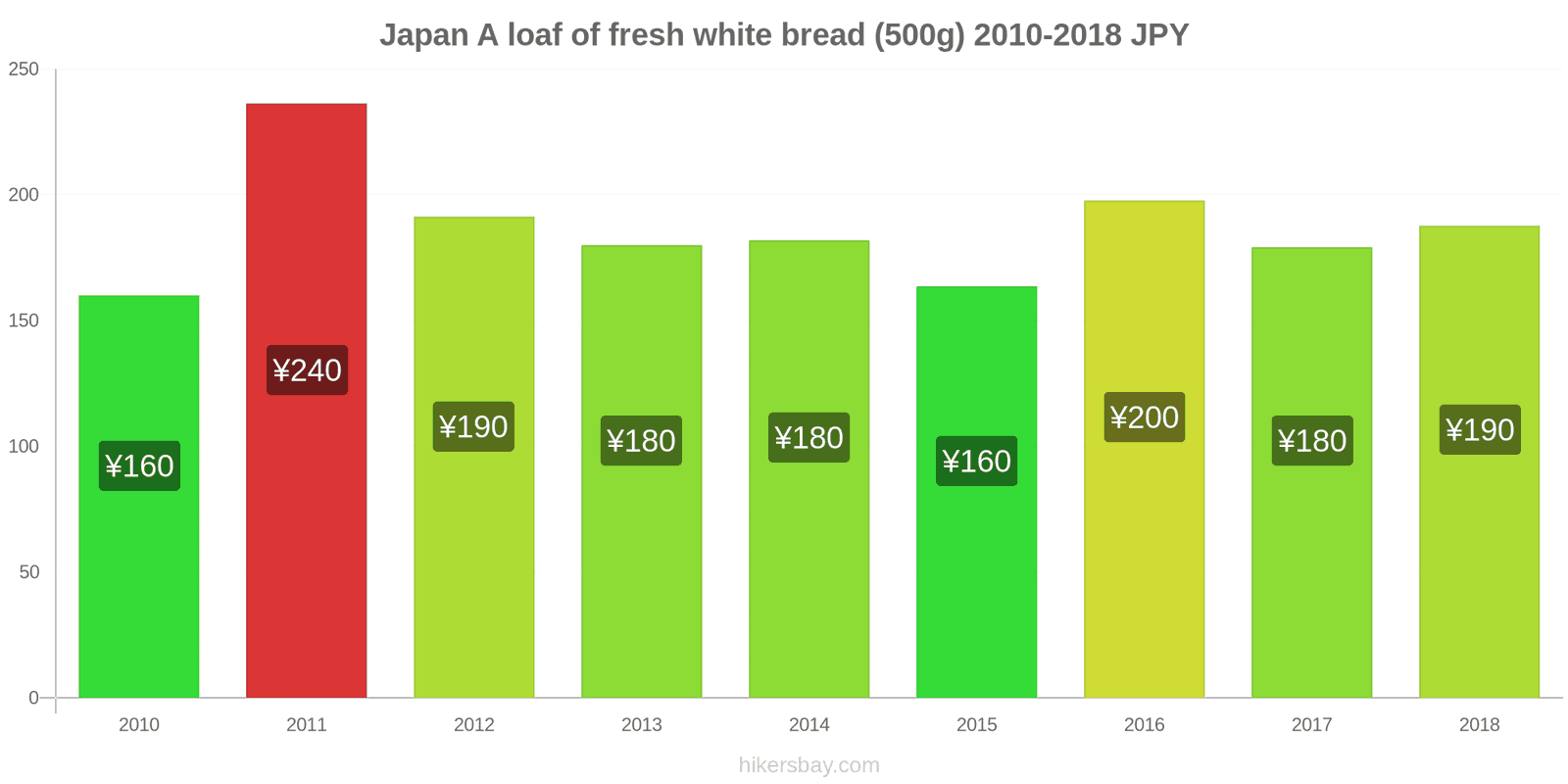 Bananas - price changes in years: 2015: $3.3(¥370), 2016: $3(¥350), 2017: $3(¥340), and 2018: $2.6(¥300)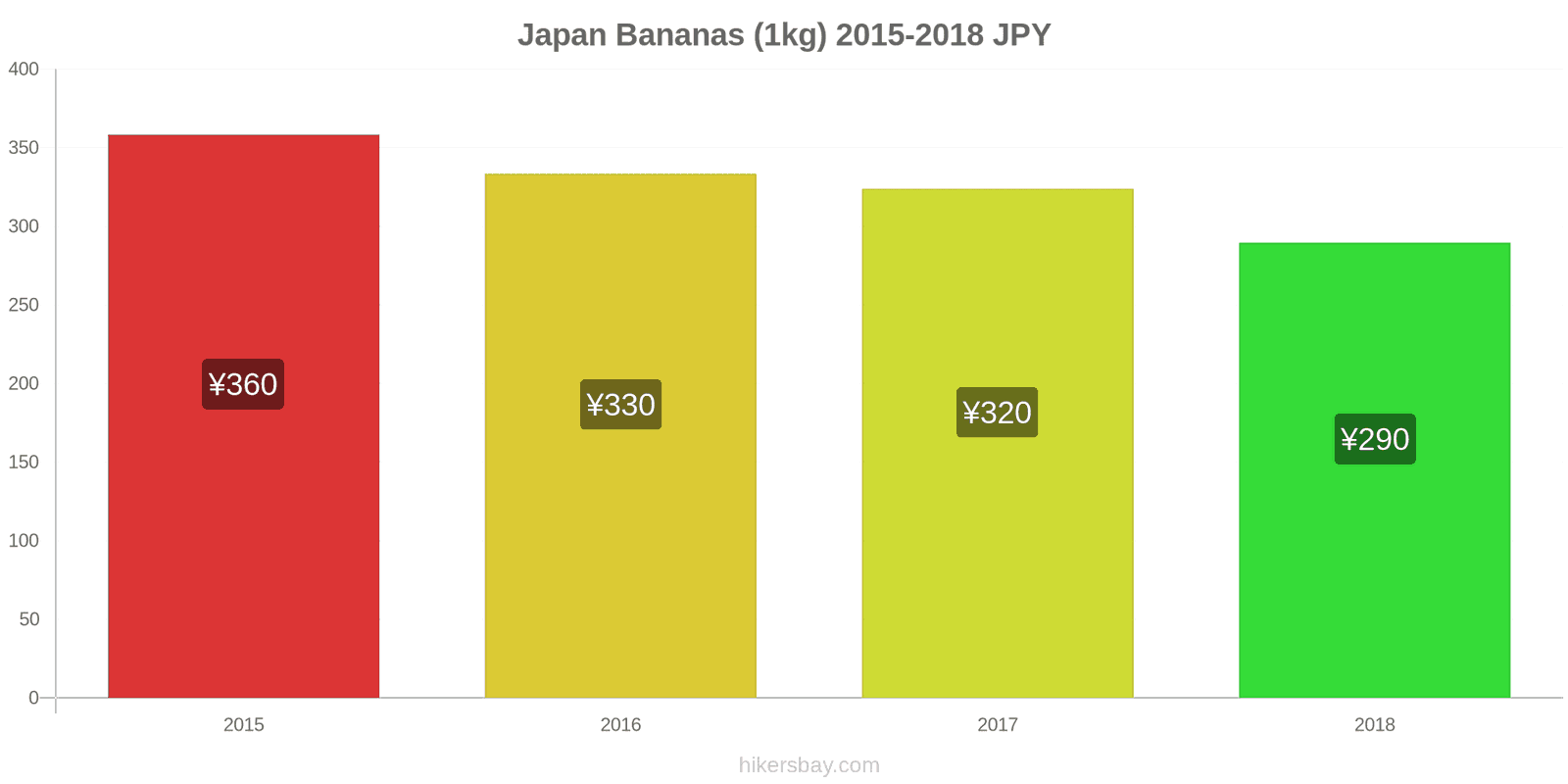 Have prices increased in restaurants in Japan?
In inexpensive restaurants, the price for a meal was: 2010: $7.3(¥830), 2011: $8.2(¥940), 2012: $7.3(¥830), 2013: $7.3(¥830), 2014: $7.3(¥830), 2015: $7.3(¥830), 2016: $7.8(¥880), 2017: $8.2(¥940), and 2018: $9.1(¥1K)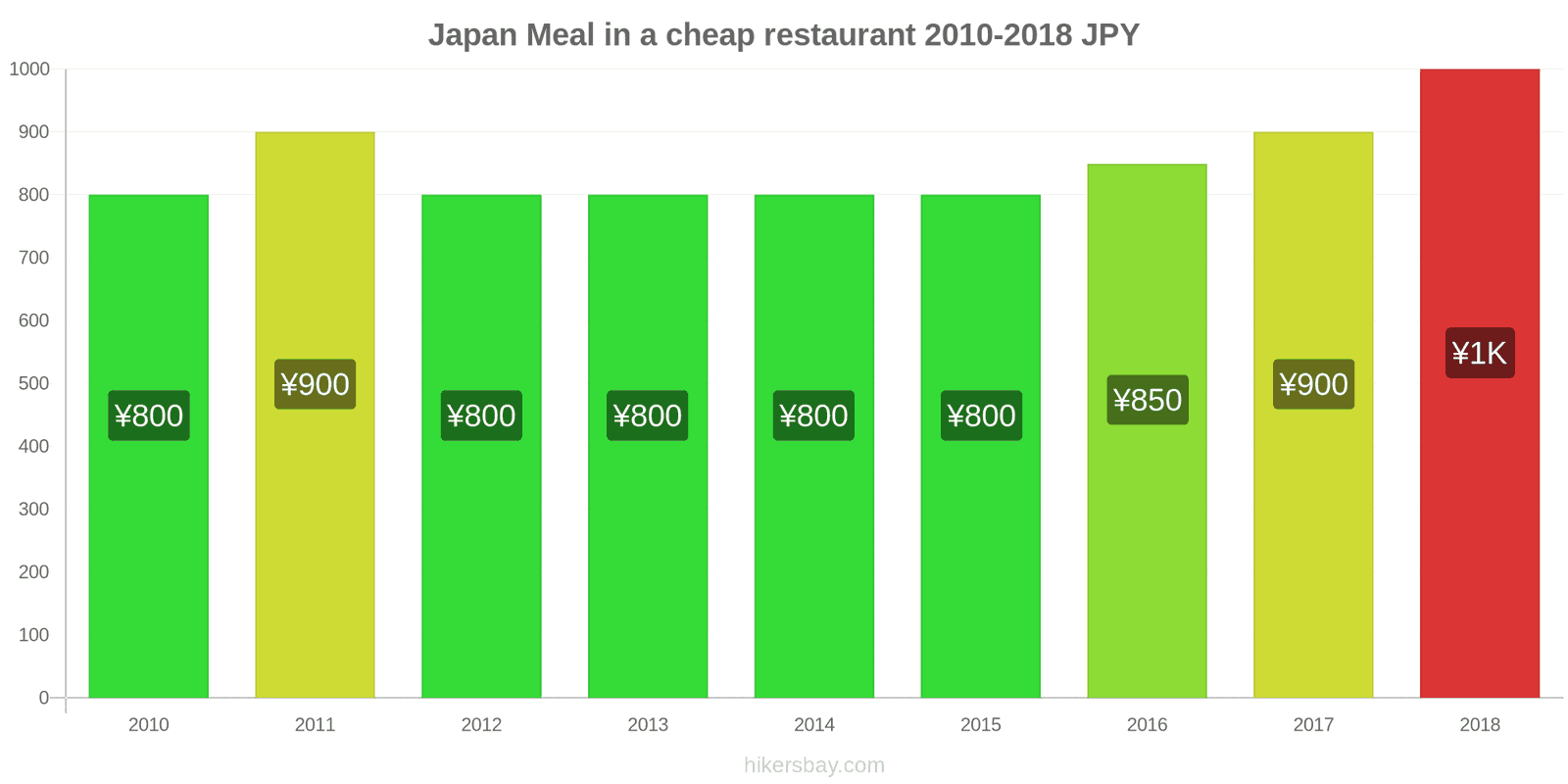 Renting A Small Apartment In The Center - price changes in years: 2010: $820(¥94K), 2011: $1.1K(¥130K), 2012: $930(¥110K), 2013: $940(¥110K), 2014: $870(¥99K), 2015: $980(¥110K), 2016: $880(¥100K), 2017: $920(¥100K), and 2018: $870(¥99K)