Prices in Saudi Arabia
What are the supermarket prices in Saudi Arabia? Is the cost of living in Saudi Arabia are higher than in United States? How much will it cost us to entertain in Saudi Arabia and how much will we spend in restaurants and bars?
On this page below you will find the current price and cost overview in Saudi Arabia: food, Restaurants, living, and Entertainment (The last update: today 17 hours ago)
Currency in Saudi Arabia to Saudi riyal (SAR). For 10 US dollars you can get 37.5 Saudi riyals. For 100 US dollars you can get 375 Saudi riyals. And the other way: For 10 Saudi riyals you can get 2.67 US dollars.
What are the different prices in the cities in Saudi Arabia? Look here: Prices in cities in Saudi Arabia
Prices: Abha Buraidah Jizan Mecca Medina Riyadh Dhahran Al-khubar Tabuk Arar
Total prices do not differ significantly in Saudi Arabia from what is in United States. Food is 40% cheaper. Dining in restaurants and bars will be cheaper by 50%. And in the case of the cost of living in Saudi Arabia, they are lower than the cost in United States about 35%. When it comes to spending free time, entertainment and sport, it's more expensive by 110%.
See also how prices have changed in previous years: Price changes in previous years in Saudi Arabia
Are hotels expensive in Saudi Arabia? How much will we pay for a room in Saudi Arabia?
The average price of accommodation in Saudi Arabia is $96 (SAR 360). If you are looking for the cheapest accommodation: in a cheap one-star hotel you will pay: $86 (SAR 320) and if you like hostels, you'll spend the night there for: $35 (SAR 130). The cost of a room in a 2-star hotel is Saudi Arabia in $100 (SAR 380). 3-star hotels offer accommodation on average for $140 (SAR 530) Overnight stay in 4-star hotel costs $200 (SAR 740) in Saudi Arabia If you are looking for the best conditions for your stay, then in 5-star hotels that will provide much more luxury you will have to pay $200 (SAR 750)
When you're thinking about traveling and it doesn't necessarily have to be a specific country, maybe the costs will be less than in Saudi Arabia in one of the nearby countries? Check prices in: Bahrain, Kuwait, United Arab Emirates, Iraq, and Qatar.
Comparison of selected prices in Saudi Arabia with prices in United States:
Price changes in previous years in Saudi Arabia
Has the price of bread increased in Saudi Arabia?
Bread in previous years has cost: 2010: $0.85(SAR 3.2), 2011: $0.98(SAR 3.7), 2012: $0.83(SAR 3.1), 2013: $0.63(SAR 2.4), 2014: $0.61(SAR 2.3), 2015: $0.65(SAR 2.5), 2016: $0.69(SAR 2.6), 2017: $0.72(SAR 2.7), and 2018: $0.69(SAR 2.6).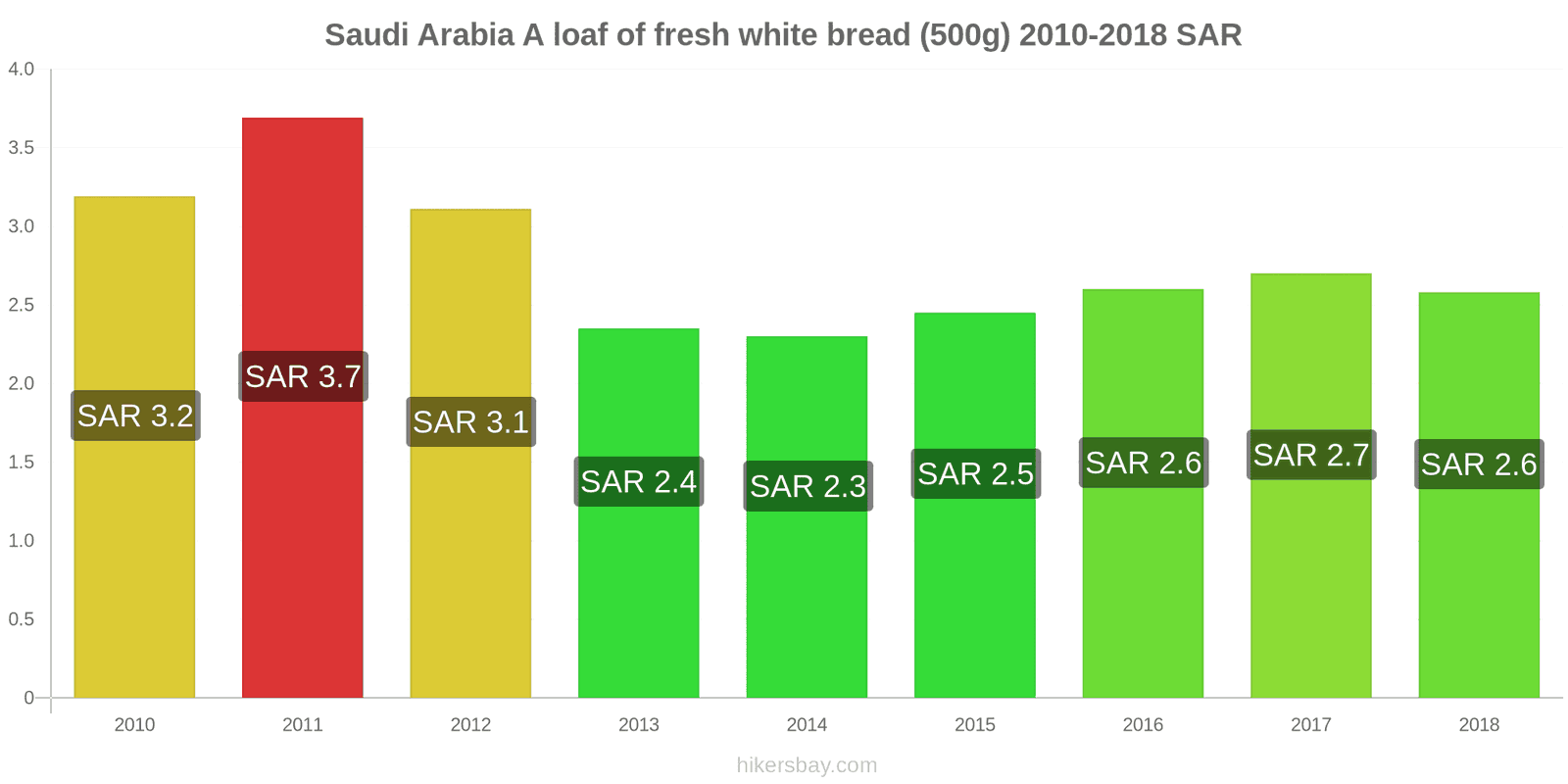 Bananas - price changes in years: 2015: $1.4(SAR 5.4), 2016: $1.5(SAR 5.5), 2017: $1.4(SAR 5.1), and 2018: $1.5(SAR 5.7)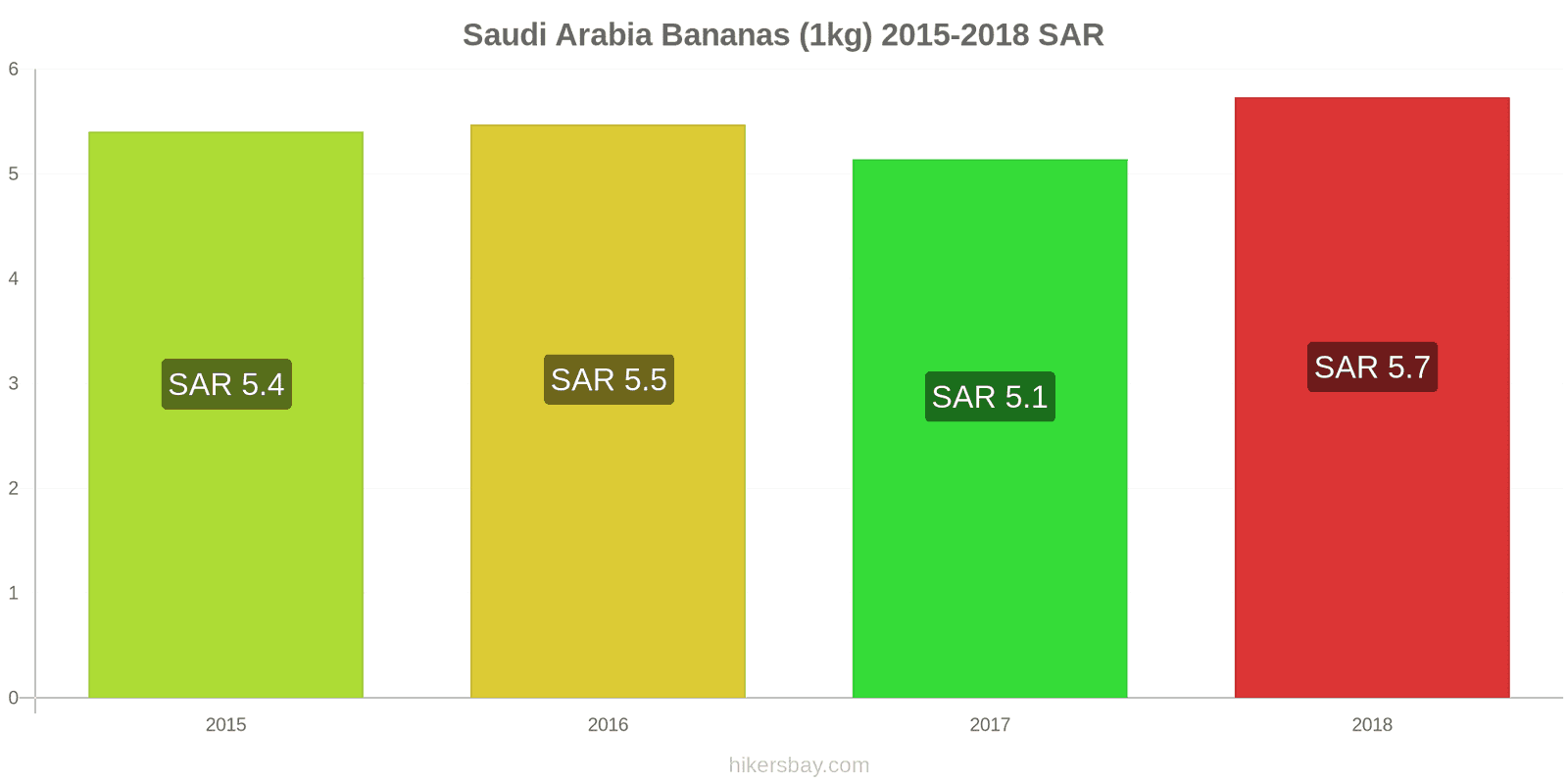 Have prices increased in restaurants in Saudi Arabia?
In inexpensive restaurants, the price for a meal was: 2010: $4.5(SAR 17), 2011: $5.2(SAR 20), 2012: $5(SAR 19), 2013: $4(SAR 15), 2014: $4(SAR 15), 2015: $4(SAR 15), 2016: $4.8(SAR 18), 2017: $5.1(SAR 19), and 2018: $5.3(SAR 20)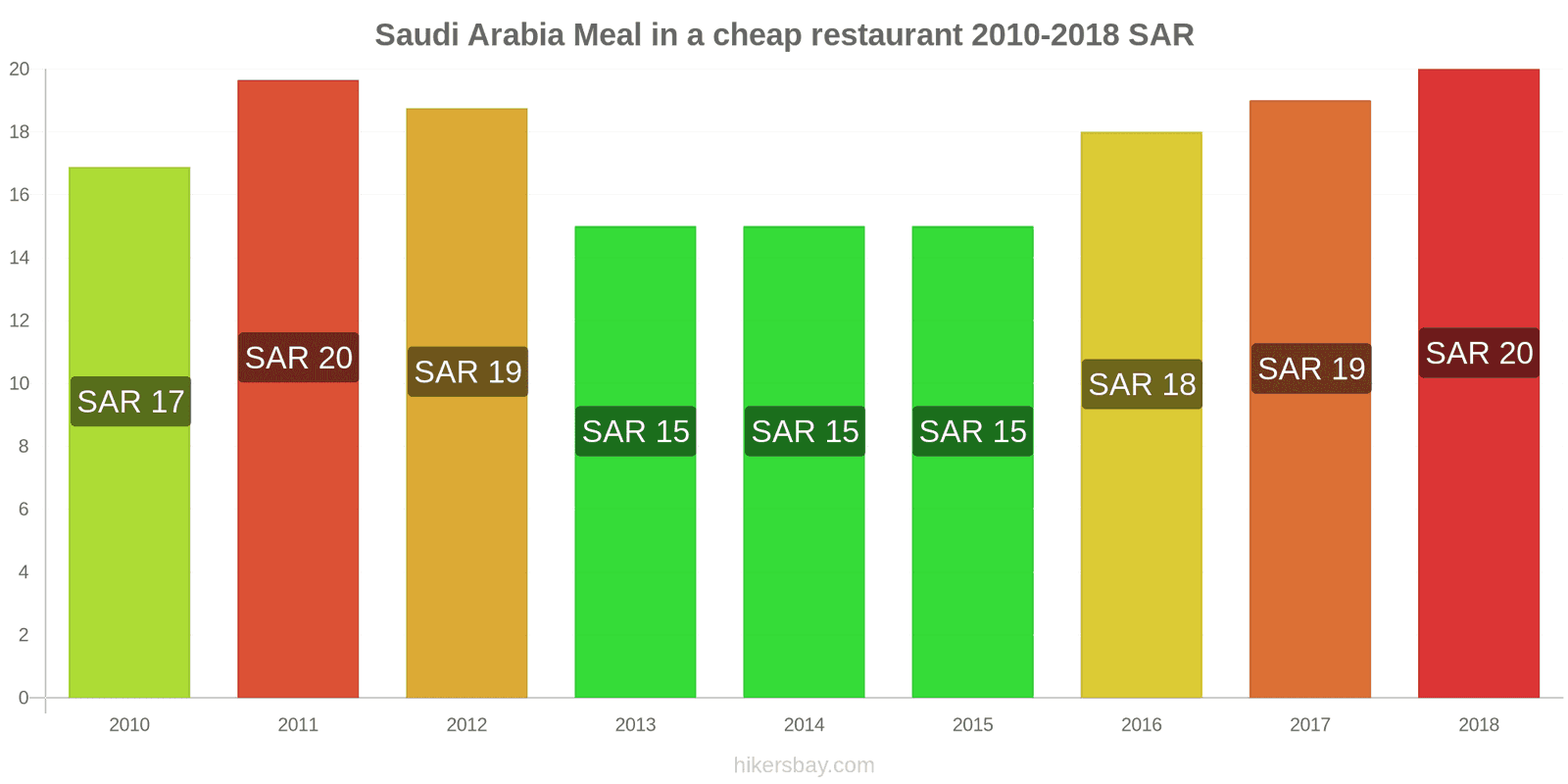 Renting A Small Apartment In The Center - price changes in years: 2010: $580(SAR 2.2K), 2011: $390(SAR 1.5K), 2012: $390(SAR 1.4K), 2013: $420(SAR 1.6K), 2014: $410(SAR 1.5K), 2015: $420(SAR 1.6K), 2016: $410(SAR 1.5K), 2017: $430(SAR 1.6K), and 2018: $370(SAR 1.4K)