Prices in Tanzania
What are the supermarket prices in Tanzania? Is the cost of living in Tanzania are higher than in United States? How much will it cost us to entertain in Tanzania and how much will we spend in restaurants and bars?
On this page below you will find the current price and cost overview in Tanzania: food, Restaurants, living, and Entertainment (The last update: today 15 hours ago)
Currency in Tanzania to Tanzanian shilling (TZS). For 9.9 US dollars you can get 22.8 thousand Tanzanian shillings. For 99 US dollars you can get 228 thousand Tanzanian shillings. And the other way: For 99 Tanzanian shillings you can get 0.043 US dollars.
What are the different prices in the cities in Tanzania? Look here: Prices in cities in Tanzania
Prices: Dar es Salaam Dodoma Zanzibar Arusha Iringa Morogoro Bagamoyo Kilosa Moshi Shinyanga
Summing up costs, it can be concluded that in Tanzania it is cheaper than in United States. Food is 54% cheaper. Dining in restaurants and bars will be cheaper by 59%. And in the case of the cost of living in Tanzania, they are lower than the cost in United States about 57%. When it comes to spending free time, entertainment and sport, it's more expensive by 7.5%.
See also how prices have changed in previous years: Price changes in previous years in Tanzania
Are hotels expensive in Tanzania? How much will we pay for a room in Tanzania?
The average price of accommodation in Tanzania is $79 (TZS 180K). If you are looking for the cheapest accommodation: in a cheap one-star hotel you will pay: $35 (TZS 80K) and if you like hostels, you'll spend the night there for: $20 (TZS 45K). The cost of a room in a 2-star hotel is Tanzania in $47 (TZS 110K). 3-star hotels offer accommodation on average for $93 (TZS 210K) Overnight stay in 4-star hotel costs $130 (TZS 300K) in Tanzania If you are looking for the best conditions for your stay, then in 5-star hotels that will provide much more luxury you will have to pay $340 (TZS 780K)
When you're thinking about traveling and it doesn't necessarily have to be a specific country, maybe the costs will be less than in Tanzania in one of the nearby countries? Check prices in: Burundi, Rwanda, Kenya, Malawi, and Uganda.
Comparison of selected prices in Tanzania with prices in United States:
Price changes in previous years in Tanzania
Has the price of bread increased in Tanzania?
Bread in previous years has cost: 2012: $0.55(TZS 1.3K), 2013: $0.59(TZS 1.4K), 2015: $0.56(TZS 1.3K), 2017: $0.53(TZS 1.2K), and 2018: $0.5(TZS 1.2K).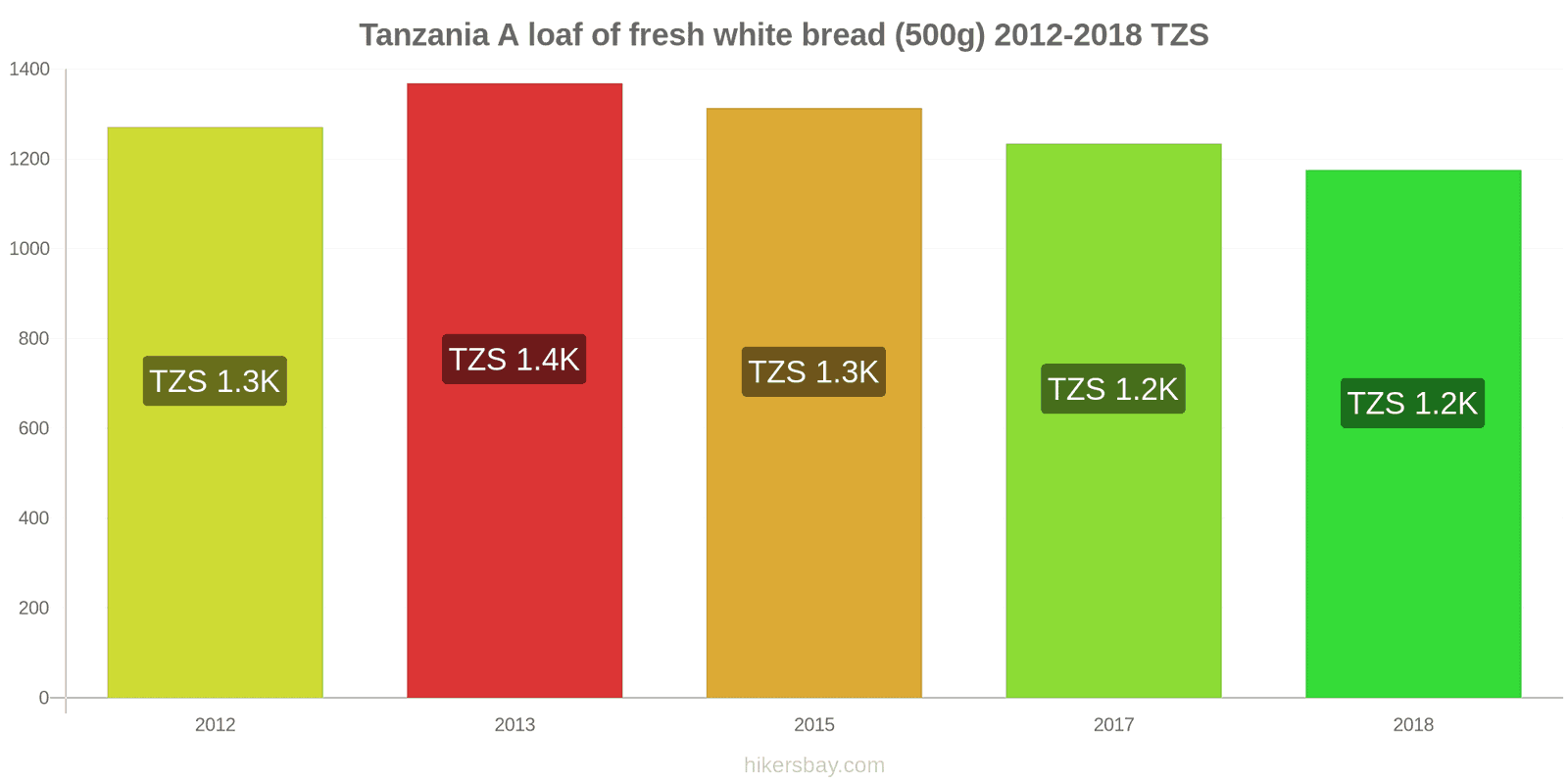 Bananas - price changes in years: 2015: $0.81(TZS 1.9K), 2017: $0.86(TZS 2K), and 2018: $0.92(TZS 2.1K)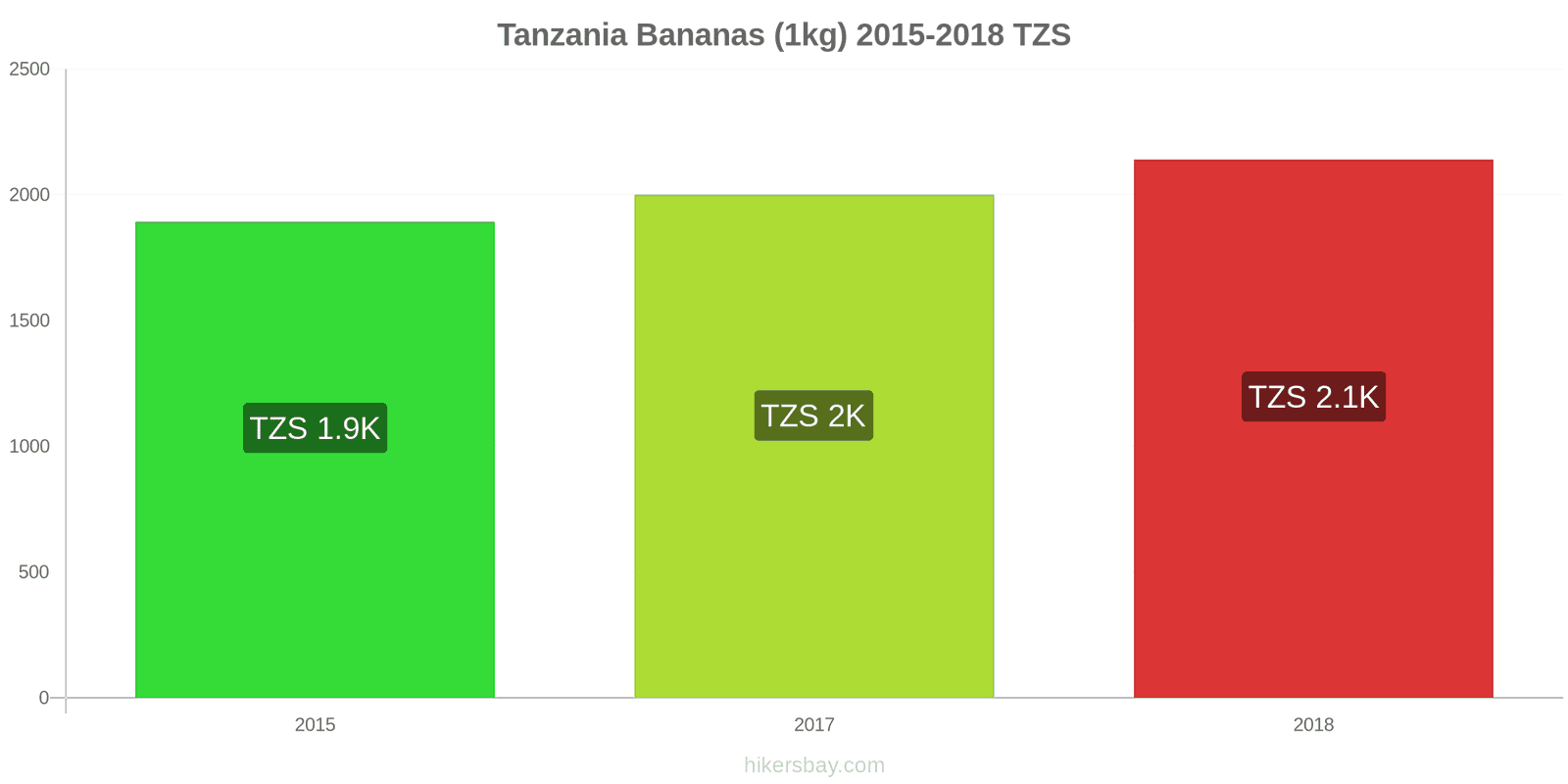 Have prices increased in restaurants in Tanzania?
In inexpensive restaurants, the price for a meal was: 2012: $2(TZS 4.6K), 2013: $2.1(TZS 5K), 2015: $3.4(TZS 7.9K), 2017: $3.2(TZS 7.4K), and 2018: $2.8(TZS 6.4K)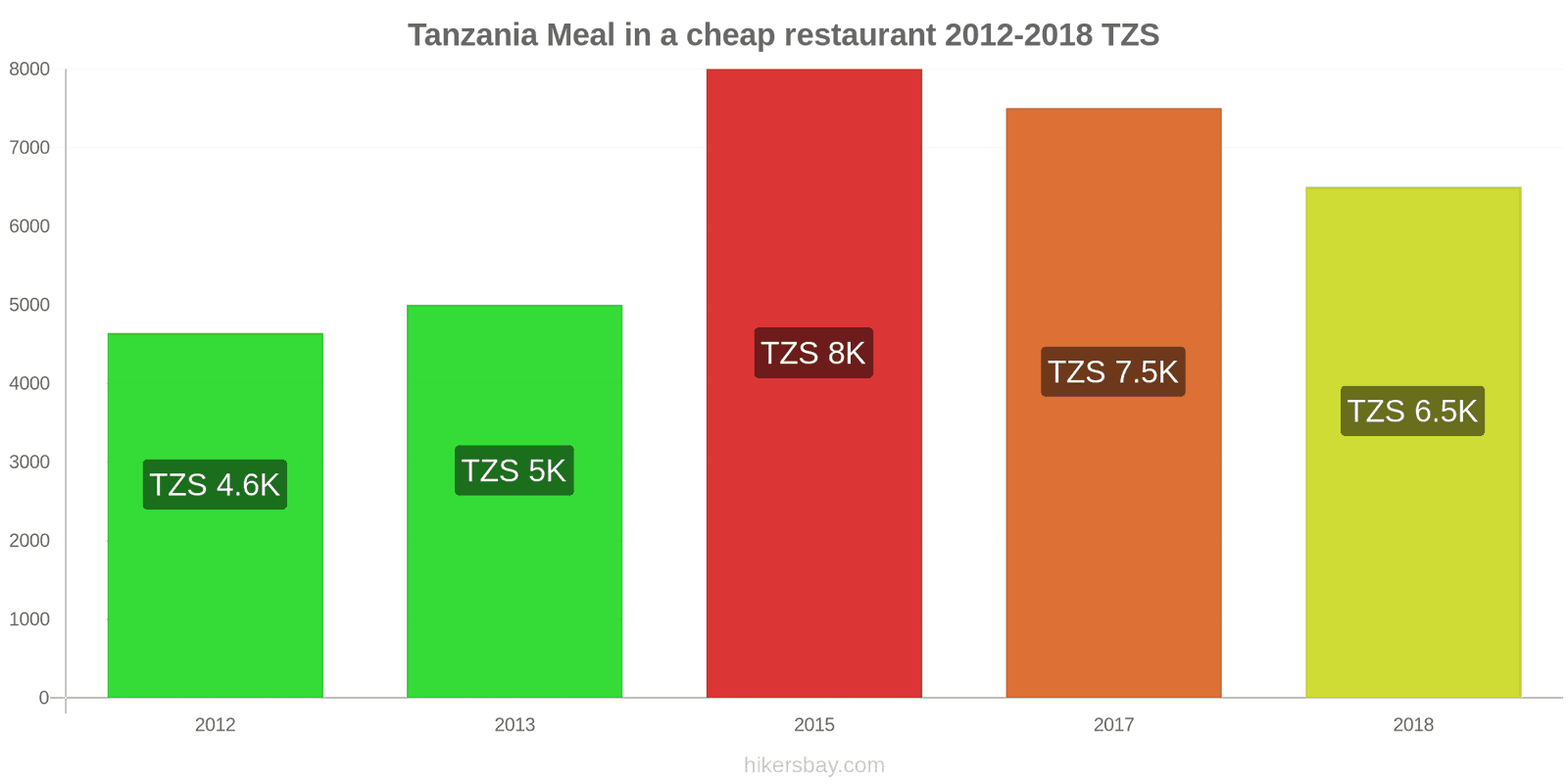 Renting A Small Apartment In The Center - price changes in years: 2012: $260(TZS 600K), 2013: $350(TZS 810K), 2015: $650(TZS 1.5M), and 2018: $310(TZS 710K)